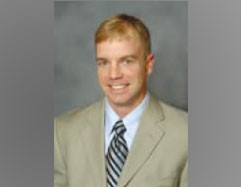 James C. Davis, II
James C. Davis, II earned a bachelor's degree in business with minors in criminology and economics from the University of Florida. From the University of Florida Levin College of Law he later received his Juris Doctor. Davis has also been admitted as a member of the Florida Bar.
Practice Areas:
Civil Litigation

Creditors' Rights and Collections
Landlord-Tenant Disputes
Foreclosures
Land Use and Zoning
Education:
University of Florida, B.A.
University of Florida Levin College of Law, J.D.
Certifications:
Memberships & Community Involvement:
Associate Director of the Florida Strawberry Festival
Plant City Armed Forces Veterans Memorials Monument Committee
Musician in the Plant City First Baptist Church orchestra
Past President & Scholarship Committee Chairman of the Plant City Lions Club
Past Board Member of the Plant City YMCA
Participant in Hillsborough County Schools' LawWeek
Past President of the Plant City Bar Association
Past member of the Thirteenth Judicial Circuit Pro Bono Oversight Committee
Contact James C. Davis, II at (813) 752-6133 or jdavis@trinkle-law.com.